A Kid's Dream Vacation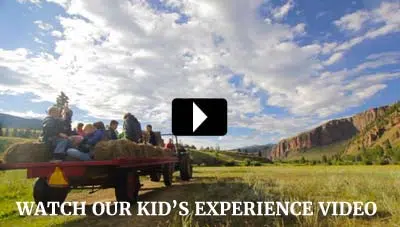 It's always an exciting moment here at the 4UR Ranch when families arrive, the car doors open, the kids jump out and excitedly begin playing and exploring new adventures within the safety and seclusion of the ranch property.
We've been welcoming families for over 140 years and even today are welcoming the grandchildren and great grandchildren of those young ones who first arrived so many years ago. With our history has come a wealth of experience in putting together our weekly children's program which is designed to provide your kids with hours of fun while encouraging new skills, self confidence, and new friendships.
Toddlers to Age 4: Our Midge Program is for toddlers who are walking and out of diapers, up to age 4. This is an active program available most mornings, two evenings, and an afternoon during the week.  We have aligned this program with our WoolyBuggers schedule to allow parents time to enjoy an adult horseback ride, fishing trip, or a quiet dinner, knowing that their little ones are having fun and being well cared for.  Our Midges have fun experiencing the wonder of the ranch from meeting our barn animals to nature hikes and pony rides.
Ages 5-12: The Wooley Buggers Kid's Program is a supervised program for children ages five to twelve with activities scheduled mornings from 9am to 12 noon, and from 2pm to 5pm in the afternoon.
There's nothing like seeing your children saddle up on a horse and watch them gain confidence in the arena before heading out onto the trails. They'll be expertly paired with a horse that they ride every day of the program. Our experienced Wranglers work hands-on with kids of all skill levels to advance their riding, whether they've never been on a horse or are experienced riders. For those kids wanting deeper knowledge and instruction, we have our Junior Wrangler program providing one on one time with wranglers. And all of their hard work pays off Thursday mornings when the "Kids Rodeo" takes center stage in the arena complete with barrel racing, pull the ribbon off the goats tail, pie eating, Junior Wrangler graduation, and even a few rodeo clowns.
Another highlight of the program is the Wooly Bugger Fly Fishing School with our highly skilled 4UR Ranch Fly Fishing Guides. Casting lessons take place on the center lawn, then the new anglers head down to trout filled Walton Pond to try their new skills. Don't be surprised if your kids are hooked on fly fishing after their lessons.
The Kid's Program also offers a one of a kind archery course, hiking, fun in the pool, and fort building! Monday and Wednesday evenings the Wooly Buggers and Midges take a hayride down pasture for campfire dinner, hotdogs, s'mores, capture the flag, and tons of fun!
Teens: For the teenagers in your family we invite them to take a break from the stress of schedules, school, homework, sports, or summer jobs, and just relax….the ranch is theirs to explore. With access to ranch bikes, hiking trails, swimming, horseback riding, fishing, or a soak in hot springs, they'll have the opportunity to experience the great outdoors, and recharge their brainwaves. Whether they spend their time on a guided hike, learning about horses with the wranglers, or unwinding by the pool, their days will be filled with memorable adventures.
We look forward to having you and your family become part of the 4UR family!