What to Expect: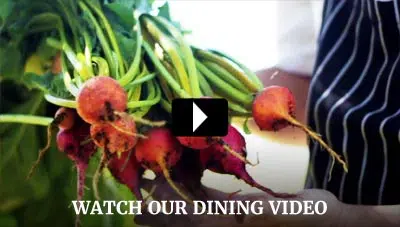 Most meals at the 4UR take place in the Lodge dining room at liberally scheduled times. While some ranch resorts serve meals family style, we prefer to reserve a table for you and your family for the entire week of your stay. Enjoy your time on the stream, or a soak in the hot springs, and your table will be waiting for you in the dining room during meal time hours.
A typical day will offer:
6:30am Coffee delivered to your porch
7:30am Continental Cold Breakfast Buffet in the Lodge
8:00-9:00am Hot breakfast service ordered from the menu (Breakfast ends at 9am when it's time for kids to meet their counselors, anglers their guides, or riders to head to the barn.)
12:30-2pm Lunch is served and includes a generous salad bar and prepared items ordered from the menu.
6:00pm the bartender arrives and appetizers are served in the bar.
6:30-8pm dinner is served in the dining room with a core menu and two dinner specials nightly.
All Day – Our bottomless cookie jar in the Lodge and at the Pool.
Sample Dinner Menu Our menu offers a new definition in ranch dining! For Kid's selections, please view Kid's Options.
Starters:

Apple and Arugula Salad with spiced walnuts, blue cheese, apple cider vinaigrette.
Sweet Corn Soup with cilantro, feta, pickled corn.
4UR Salad with local greens, candied pecans, tomatoes, cucumbers, blue cheese, honey-balsamic.

Entrees:

Rare Seared Ahi Tuna with bok choy, pickled vegetables, chile, miso-ginger vinaigrette.
Pan Seared Duck Breast with foie gras dirty rice, sautéed greens, cherry mostarda.
Espresso Rubbed Tenderloin of Beef with buttermilk potato puree, roasted broccolini, espresso demi.
Roasted Chicken with farro, castelvetrano olives, capers, zucchini, pan jus.
Fettuccine Pasta with swiss chard, bacon, mushrooms.

Desserts:

Chocolate with chocolate cake, chocolate ganache, chili-chocolate gelato.
Sticky Toffee Pudding with date cake, toffee sauce, vanilla gelato.
Cheese Plate with local cheese, baguette, cherry chutney.
Daily Selection of House-made Sorbets and Ice Cream.
We also offer an excellent wine list to complement your meal.
Picnics, Chuckwagons and Cookouts!
In true Rocky Mountain style, not all eating is done in the dining room and there are several opportunities to dine "al fresco" Colorado-style. Each week we host a Chuckwagon Breakfast along Pierce Creek, a Mexican luncheon poolside, and an evening steak cookout overlooking the entire valley to the Palisade cliffs above the Rio Grande.
Some anglers prefer to have us prepare a box lunch so they can stay out on the stream all day. And some guests who attend a play at the nationally award winning Creede Repertory Theatre will ask for a dinner picnic basket to take to town for an evening.
But, the picnic most loved by returning guests? Our century old tradition of the Friday fish-fry, with trout fillets cooked streamside in a sizzling skillet, and an ice cold beer.
A Word from Our Chef:
I am Elizabeth Wolfgang, but like most of the 4UR family you can call me Zil. A nickname that was given to me my first season back in 2006. I graduated from Johnson & Wales University in March of 2007 and came back for the 2007 summer season. After the 2007 season, I continued to travel and see the country so I continued on my culinary journey which took me all over the country. I have cooked in a wide range of environments from cooking at a children's summer camp in Alaska to being the Chef de Cuisine in a James Beard Finalist Fine Dining Restaurant back in my home state of Florida.

I have also been lucky enough to have accomplished a lot of independent work over my culinary career: personal chef, meal planning for families, teaching culinary skills to children, catering anything from weddings to intimate dinner parties, and at one point I owned and operated a food truck.

My wife Jamie and I have two dogs who we love exploring the mountains with. In the off season Jamie and I try to go on at  least one food adventure. These food adventures are where I get a lot of  inspiration for new dishes to bring to the ranch.

My Mom and my Great Grandma were the sparks that ignited my love of cooking. It was during every holiday celebration they allowed me to help with the meal preparations. They were my first teachers in the basics of preparing a delicious and comforting meal. During the holidays I continue this tradition by preparing a multi-course meal for my family and passing along the tradition to my nieces and nephews.

At every restaurant and culinary experience I have worked, I would do my best to soak up as much as I could and apply it to the next. I am looking forward to taking what I have learned along my journey and applying it here at the 4UR to provide a unique and memorable experience.

– Zil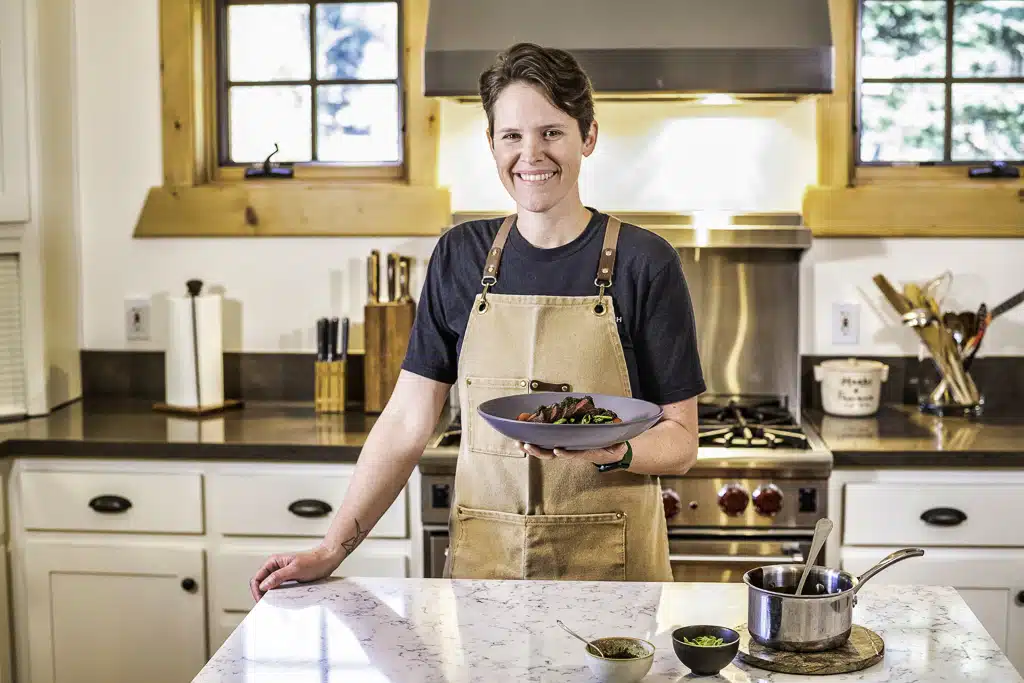 * If you or any member of your family have special dietary needs or requirements, such as gluten-free or sugar-free foods, please let us know before you arrive and we'll do our best to have the right foods on hand.