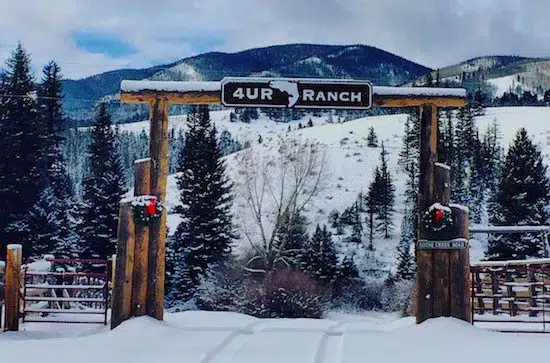 Cooking during the holiday season can be a daunting task so we asked our amazing 4UR kitchen Chefs, Wray, Blake, and Liz to share some of their favorite holiday sweets and advice for keeping the kitchen a stress free place this season.
Chef Wray Warner says the best piece of entertaining advice he ever received was to entertain, not cook, when guests are there.  He plans ahead and has everything ready to go when his guests arrive, allowing for less stress and more time with friends and family. Chef Wray saves the gourmet cuisine for summertimes at the 4UR Ranch and opts for simplicity during the holiday season at home. He admits that his family usually overdoes it at Thanksgiving, so for Christmas they prepare appetizers and finger foods.
Traditionally Chef Wray makes cinnamon rolls the night before and slides them into the oven when he wakes up so they are ready for the chaos of gift giving.
Here's Wray's recipe for Christmas morning cinnamon rolls!
Cinnamon Rolls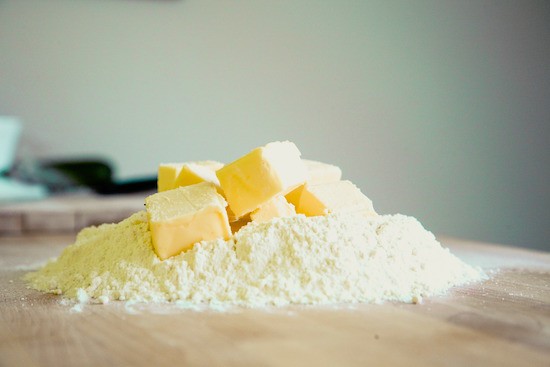 4 cups plus 2 T AP flour
3 packets yeast
1 cup water
2 eggs
1 stick butter, softened
1 tsp  salt
1/2 c sugar
Add ingredients to a stand mixer and mix on 2 for 12 minutes. After about 12 minutes, the dough should form a smooth ball.  If not add a little flour at a time, until the dough pulls away from the sides of the bowl.  Cover and allow to proof until doubled in size.  Once doubled, place dough a lightly floured surface and roll out into a a rough rectangle approx.. ¼ inch thick.  Spread 2 sticks of butter over dough, leaving ½ inch free to allow the dough to seal.  Sprinkle liberally with brown sugar and cinnamon.  Roll dough up from bottom and place the seam on the bottom of the roll.  Cut into the desired size.  Place in to a greased baking pan.  Cover and place into the refrigerator overnight.  In the morning remove the cinnamon rolls from the refrigerator while the oven preheats to 350.  Bake 10-15 minutes or until the centers are done.  Bigger rolls will take longer.  Cool slightly and glaze.
Glaze
1 and 1/2 cups powdered sugar
2 and 1/2 tsp milk
1/4 tsp vanilla
1 tsp butter
Melt butter, add remaining ingredients and mix until smooth.
Chef Blake Bond's favorite memory from Christmas Eve was enjoying homemade apricot horns and wassail around his grandmother's kitchen table. He loved watching the apricot horns get assembled and gobbling up the first back right out of the oven.
Here are Blake's families recipes for apricot horns and homemade wassail.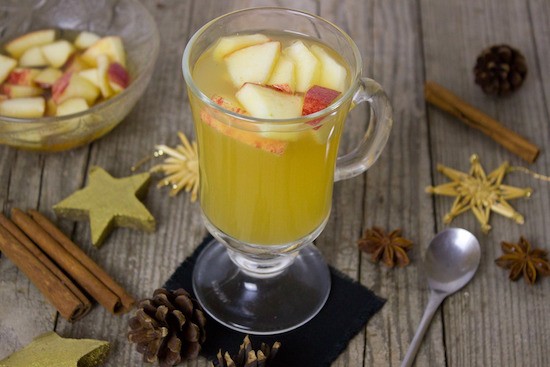 Apricot Horns
1 lb. creamed cottage cheese
1lb. margarine, softened
Cream together cottage cheese and margarine. Add 4 cups all purpose flour, one cup at a time and 1 tsp salt. Cover dough and refrigerate overnight. 
Filling:
1 lb. dried apricots
2 c. sugar
water to cover
Add 1 # of dried apricots and 2 cups of sugar to a pot. Cover with water and simmer until apricots are soft.
Procedure:
When ready to make horns, work with a small amount of dough at a time while keeping the rest refrigerated. Roll dough into small balls then pat out a small circle (about the size of your palm). Place a spoonful of filling in the middle of the dough. Bring 2 sides of the dough together and press firmly. Bake @ 350 for 12-15 minutes. While still hot, dust generously with powdered sugar.
Mimi's Wassail
1 qt Apple cider
1 c pineapple juice
1 c orange juice
1 c water
1/4 c red hots
1/4 c sugar
1 -2 cinnamon sticks
1/2 t ground cloves
Put red hots and cinnamon sticks in basket of percolator.  Add juices and spices.   Percolate and serve.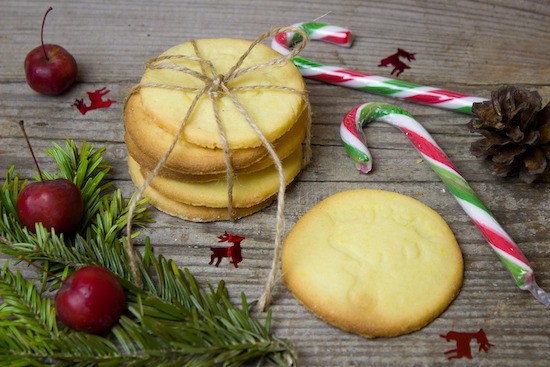 And from Liz Wolfgang, the newest member of the 4UR kitchen team, she shares some tidbits about achieving stress-free Christmas dinner. Clean as you go so the dishes and remaining ingredients don't overrun your kitchen. Liz also suggests prepping as much as possible the day before. For example, peel and cut your potatoes the day before submerge them in water and drain when you are ready to use. Lastly, pull out all of your clean kitchen towels, you'll be needing them!
From the Wolfgang kitchen in Florida, Liz would like to share her Great Aunt Marilyn's sugar cookie recipe with all of you! Enjoy!!
Dough
5 cups All-Purpose Flour
¾ cup Granulated Sugar
1 cup Brown Sugar
1 teaspoon Baking Soda
1 teaspoon Baking Powder
½ teaspoon Salt
½ cup Shortening
2 each Eggs
1 Tablespoon Vanilla Extract
1 cup Sour Milk*
1 tablespoon Vinegar, White*
Icing
1 lb. Powdered Sugar
1 stick Butter or margarine
1 pinch Salt
As needed Milk
Add 1 tablespoon of vinegar to milk and set aside. Combine dry ingredients in a bowl and set aside. In the bowl of a stand-up mixer combine brown sugar, granulated sugar and shortening. Slowly add eggs and vanilla, being sure they fully combine. Gradually add dry ingredients, alternating with the sour milk. Mix well. 
Form the dough into a ball and wrap in wax paper. Chill the dough for at least an hour. Preheat the oven to 350°F. Divide the dough into four portions. Roll chilled dough out one by one on a lightly floured surface. Make sure to roll the dough out evenly, and to avoid making them too thin. Place on a cookie sheet or cookie stone and put into the oven.
Bake for 10-12 minutes and check. You want the cookies to be light brown. Once cookies are removed from the oven, remove the cookies from the sheet and cool on a wired rack.
For the icing, add powdered sugar, butter, salt and mix. Gradually add milk until icing is spreadable. Once cookies are cool begin frosting, add sprinkles before frosting hardens on cookies. 
From our 4UR Ranch family to yours we hope this holiday season is filled with family, friends,  and cherished memories.