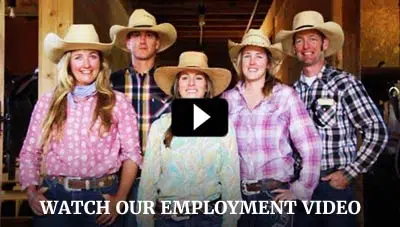 The 4UR Ranch is one of the oldest resorts in the State of Colorado and has been welcoming guests for over 140 years. With natural hot springs, 6 miles of private fly fishing, thousands of acres of mountain access, a herd of 55 horses, a geothermal outdoor pool, a new fitness room, and a Le Cordon Bleu trained chef, the guest amenities are exceptional. And if you're hired as part of our team, you will have opportunities to take advantage of these as well, making the 4UR Ranch way more than just another Colorado Summer job.
Employment at 4UR Ranch in beautiful Creede, Colorado
We're always on the lookout for young, energetic people to help us make the 4UR Ranch the ultimate vacation for our guests. If you would like to consider spending a summer working in the mountains of Southern Colorado please give us a call at 719-658-2202. Rather than providing applications through the internet, we prefer to chat with you for a while before emailing an official application. If beautiful scenery, hard work and genuine camaraderie is your idea of a great summer, please look over the employment section below, as well as the video on this page and our Instagram page to better familiarize yourself with our resort. Then give us a call and let's talk!
Employment Season
Our Colorado guest ranch summer employment season begins in early June and runs into early October. We have many positions which will work for those individuals returning to school in August, and other positions better suited to those who are able to work into October.
Qualifications
We are looking for staff members who are cheerful, enthusiastic, genuinely friendly, and courteous to others. Our staff members must be flexible and comfortable working in a team environment, have a positive outlook toward the ranch, and have the desire to help our guests have a wonderful vacation. Applicants should have a good work ethic and be comfortable working in a physically demanding environment. All staff must have a valid drivers license and be current in CPR and First Aid certifications before arriving at the ranch.
Waitstaff
Our waitstaff interacts directly with guests throughout the week and we are looking for individuals who are friendly, self confident, with good manners and a strong sense of etiquette. Duties will be to serve ranch guests three daily meals, as well as maintain dining room order and appearance on a continuing basis. This position includes rotational dishwashing duties shared by all. Prior waitstaff experience is preferred but not required.
Assistant Cook
This individual will work directly for Executive Chef Blake Bond who trained at Le Cordon Bleu in Austin and has been with 4UR since 2011. Duties will include simple cooking and food preparation, assisting chef in the making of sauces, soups and salads, set-up for meal service and some basic grill work. This individual will be expected to have previous experience in this position, and basic knowledge of Colorado Department of Health requirements and standards for safe food handling and service.
Ranch Hand
Individuals who apply to work as ranch hands should expect strenuous outdoor activity and physical workdays. Typical daily ranch duties include building fences, basic maintenance of buildings and swimming pools, basic vehicle upkeep, stocking firewood and hauling all materials needed for guest cookout events. Additionally, ranch hands are responsible for guest transport to and from the regional airport, loading and unloading guest luggage. Ranch Hands must have a positive attitude, good manners, and the self confidence to handle guest interactions maturely.
Children's Counselors
This is a great position for the individual who is high energy and loves kids. Working together, 2 counselors will be responsible for implementing a supervised program for children ages five to twelve. This program is a guest amenity and takes place daily from 9 to 12 mornings and 2 to 5 afternoons. Counselors will work an additional 3-4 hours two nights a week. It requires supervision and participation in various activities, games and events. Emphasis is on outdoor education, such as nature hikes, fishing, archery, wildlife identification, and horseback riding. Counselors must be prepared for physical activity, comfortable working with horses, and carry up-to-date CPR and First Aid certifications before arriving at the ranch.
Fly Fishing Guides
Fishing on Goose Creek is one of the finest private fly fishing experiences offered in the Rocky Mountain west and our guests have come to expect a high level of knowledge and expertise from our seasonal guides. Our guides must be experienced anglers, skilled in communication, teaching, and social skills, and have a clear understanding of the art of fly fishing on small water as well as rivers.
All guides must be comfortable and flexible in a team environment and expect that on days when private trips are not booked, the guides will be working in other areas of the ranch at the team leader's discretion. All guides must be current in CPR and First Aid certifications before arriving at the ranch.
Housekeeping
The concept that "you never get a second chance to make a first impression" is tried and true and makes the position of housekeeping one of the most important jobs on the ranch. The first time a guest checks in at the lodge or walks into their room to unpack for their vacation, it is that first impression that will set the tone for their entire stay. It is not an easy job but it is the very core of success in the hospitality business.
Our housekeepers must have great attention to detail, good social skills, and enjoy working in a team environment. Responsibilities will include daily cleanliness of guest rooms, common areas, and all guest buildings, and evening turndown service. When guest room duties are finished, housekeepers will be expected to help in other areas of the ranch including keeping the grounds attractive, childcare, or other areas of need.
Wrangler
The 4UR Ranch has a herd of 55 horses and provides a Natural Horsemanship Program for our guests. Wranglers must have considerable experience working with horses, and possess a mature and positive attitude. Working as a team, wranglers will care for our herd of horses, including daily brushing, grooming, and some veterinary work. Wranglers will work closely with our guests; leading mountain trail rides, saddling horses, mounting riders, and conducting riding lessons according to the principles of natural horsemanship and the level of experience of each individual guest. Other duties include tack upkeep and repair, fencing and fence repair, trail maintenance, and some haying. Wranglers are required to carry up-to-date CPR & First Aid certifications before arriving at the ranch. Upon arrival, wranglers will be required to pass the Dude Ranchers Association course: Horse Safety and Adaptive First Aid for the Trail.