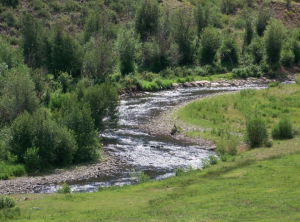 Imagine spending a week with your best girl friends doing what you most like to do – fish, hang out together, and drink wine.
We invite women to join us at our Colorado Fishing Lodge for the Women, Wine, & Waders Retreat.
That's what it's like at our Colorado Dude Ranch during the Women, Wine & Waders Retreat. In 2011, women anglers will take over the ranch the week of August 21-27. You could be there.
You'll spread out over Goose Creek and spend a day at Lost Lakes. You'll fish all day, maybe learning new techniques with one of our fishing guides, maybe perfecting old ones. Perhaps you'll go horseback riding one afternoon, or relax into a massage.
In the evening, you'll soak in the natural hot springs and cool off in the pool. You'll indulge in long, sumptuous dinners and share bottles of wine. You'll talk with old friends and make new friends. You'll laugh. You'll be happy and fulfilled.
Sounds ideal, doesn't it?
It is.
Join us during the Women, Wine & Waders Retreat at our Colorado Dude Ranch, August 21 – 27, 2011. Come with your good friend, your sister, your mother or daughter. Fish in one of the most glorious places on earth. Celebrate life.
Fish Goose Creek.