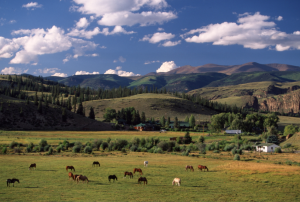 From time to time, we host weddings at our Colorado Family Dude Ranch. We host them in early summer and late fall, before and after our regular season. Guests arrive from all corners of the country, stay for a few days, witness a marriage, and then leave. It is a delightful experience for all.
We can accommodate 50-60 guests for these events, so weddings at our Colorado Family Dude Ranch typically involve family and good friends. Guests partake in all the ranch activities – they go horseback riding, hike, fish Goose Creek, swim, and soak in the natural hot springs. They share meals and toast the couple repeatedly. When the weather has allowed, we have had some truly beautiful outdoor weddings here; on mountain meadows and down by the river.
We supply the wedding cake and the champagne, and happily make recommendations for with professionals for flowers, music, photography, etc.
If you'd like to host your wedding at our Colorado Vacation Ranch, please call 719-658-2202.