Your Horseback Riding Vacation Awaits!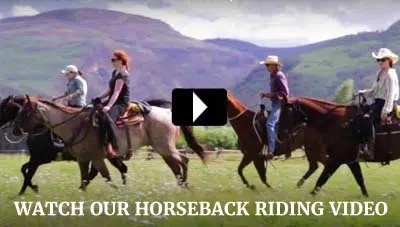 "…the best thing for the inside of a man is the outside of a horse…"  This often quoted statement has been attributed to everyone from Winston Churchill to Will Rodgers and Ronald Reagan. Here at the 4UR Ranch we believe it's true and has been for as long as our historic ranch has been welcoming guests.
There's much we can say about our love of horses and our horsemanship program at our Colorado ranch. From helping a child into the saddle for the first time, to teaching an experienced rider how horses talk to each other, our wranglers are committed to making your vacation at the 4UR Ranch one of the best times you'll have with a horse.
Let's get the kids on a horse!
Wooley Buggers Program: There's nothing like seeing your children saddle up on a horse and gaining confidence in the arena before heading out onto the trails. They'll be expertly paired with a horse that they ride every day of the program. Our experienced Wranglers work hands-on with kids of all skill levels to advance their riding, whether they've never been on a horse or are experienced riders. And all of their hard work pays off Thursday mornings when the "Kids Rodeo" takes center stage in the arena complete with barrel racing, pull the ribbon off the goats tail, pie eating, Junior Wrangler graduation, and even a few rodeo clowns.
Junior Wrangler Program: For those kids wanting deeper knowledge and instruction in horsemanship, we have our Junior Wrangler program providing one on one time with wranglers. This is a more individualized time when kids learn to saddle, bridle, and groom the horse. The wranglers will share with them knowledge of feeding, health, communication, and herd behavior.
Our Facilities and Property
Between our outdoor arena, obstacle course, and extensive trail system, you'll find ways to improve your riding skills or simply become comfortable in the saddle.
Arena work: We have two outdoor arenas on property which we use to assess your riding ability and introduce you to our horsemanship program. These are also great places for you to work on more personalized instruction with a wrangler.

Obstacle Course: Our short obstacle course is a great way to test your skills and gain greater confidence in the saddle. With our wranglers steady instruction you will learn how to travel over low logs, through streams, up and down steep banks, and open a gate from the back of your horse.
Trails: We have an extensive network of mountain trails which traverse deep into the Rio Grande National Forest and offer stunning views overlooking the Rio Grande Rift, the Goose Creek Valley, and beyond. All trail rides depart directly from 4UR Ranch property which borders BLM, U.S. Forest Service and Wilderness lands. With so many trail options available to our wranglers we can ensure that you're able to take a ride best fitted to your interests. Whether it's a short ride for an hour, or a more ambitious day-long ride into the high country, the terrain of the 4UR Ranch can accommodate a wide variety of interests and adventures.
Weekly Riding Schedule
Each week we have a schedule of specific Colorado horseback rides for you to enjoy. Morning rides generally leave between 9am and 10am, and afternoon rides leave between 2pm and 3pm, but throughout the week our wranglers remain flexible and open to guests requests.
Monday: Guests who wish to ride during their stay at the 4UR Ranch are asked to attend our "Meet your Horse" gathering in the arena on Monday mornings at 9am. This is an opportunity for you to meet our wranglers and learn about our natural horsemanship program. This is also the time when all guests will be paired with their horse for the week. Within our natural horsemanship approach to riding is the belief that the horse and rider are a team and have a relationship. That the rider is not just a passenger but an active participant in communicating and working with these beautiful four legged friends of ours.
Tuesday: Tuesday is the day of the "Breakfast Ride", a guest favorite! On this day, the riders saddle-up early, ride over the top of Wild Flower Mesa overlooking the Rio Grande Palisades, drop down into the Pierce Creek Meadow, and enjoy our outdoor Chuckwagon Breakfast. After breakfast riders have the choice of continuing up Pierce Creek and into the Aspen forest, or taking the shorter route back to the compound for a day of fishing or relaxing by the pool.
Wednesday: If you're one of our more enthusiastic riders and want to stay in the saddle a bit longer, consider signing up for our all day Wednesday Lunch Ride.
Thursday: After Breakfast on Thursday mornings head down to the arena to watch the "Kid's Rodeo". After working all week in the Wooley Boogers Program the kids take center stage to show off their skills in barrel racing, pie eating, and pulling the ribbon off the goat's tail. There are even a couple of rodeo clowns to spice things up.
For those riders with advanced skills, a late afternoon "Steak Ride" leaves the barn around 4:30pm and moves at a fast pace up river to arrive at our outdoor tented Steak Dinner. From this point the horses will be trailered home while riders and guests enjoy dinner, campfire, s'mores, and a cowboy sing along.
Friday: After perfecting your riding all week Friday provides a choice between two stunning trail rides.
For the advanced rider who is comfortable with heights and a longer time in the saddle, the Table Rock Ride winds through beautiful forests, along a narrow, steep, and rocky hillside, and tops out at one of the highest elevations accessible by horseback. This point offers some of the most stunning views overlooking the entire ranch to the north and the Continental Divide to the south.
Other riders can enjoy an extended experience riding the lower elevations through the meadows and across Goose Creek.
Both rides arrive for lunch at the Fish Fry picnic, the picnic most loved by returning guests. This century old tradition is a feast for the senses with the smells of trout fillets sizzling in a skillet over an open wood fire, the sound of fast running Goose Creek a few feet from your table, the mountain sides all around, and the taste of an oh-so-cold beer.
After lunch, you can choose to saddle up for that very last ride of the week or let the wranglers trailer your horse back to the barn as you drive back with family or friends.