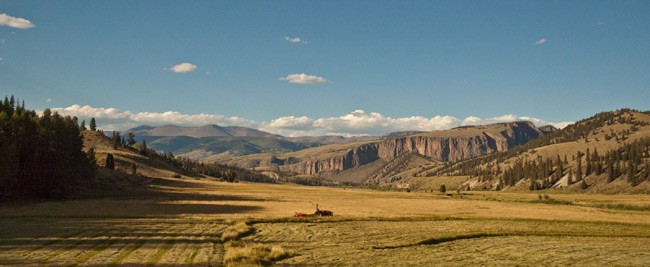 Hay season is in full swing at the 4UR.  We love this time of year – the sunlight seems a little more golden, there is a hint of fall in the leaves, and the air is a little crisper.  A few weeks ago, there was a taint of sadness with many staff returning to college and children back in school, and then hay season came upon us!
We look forward to the harvest. Beside the excellent fishing conditions the stream provides in September, the guests are getting some prime photo opportunities as they drive along Goose Creek Road. The staff enjoy helping with picking up bales from the freshly cut fields and stacking them in the barn. The sense of togetherness, pushing as a team to get a very hard job done, and seeing substantial progress made is very rewarding. It's no easy task, as bales can weigh up to sixty pounds and some days require picking up and stacking over seven hundred in a day!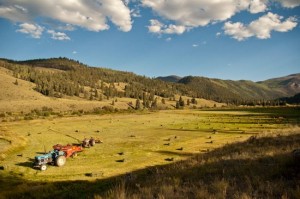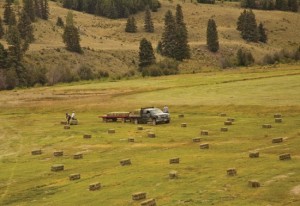 Our hay meadows are filled with many types of grasses and forbs, our favorite composition being clover and timothy, clover being high in protein, and timothy is a good source of calcium and phosphorous. A good broadleaf or legume (such as clover) intermixed with grass captures the sunlight most efficiently while fixing nitrogen in the soil. Properly managing the grazing of our pastures, along with the timing of irrigation and using only natural fertilizer left behind by the horses, produces healthy plants. The hay is used to feed our herd of fifty horses throughout the winter and into spring. We are very lucky to be able to provide our own hay for our herd, and to have pasture for them to graze on all summer.
This high in the mountains we can expect only one cutting of hay, as the growing season is short and the rains don't let up until late September.  So as the old adage goes, we are "making hay while the sun shines!"