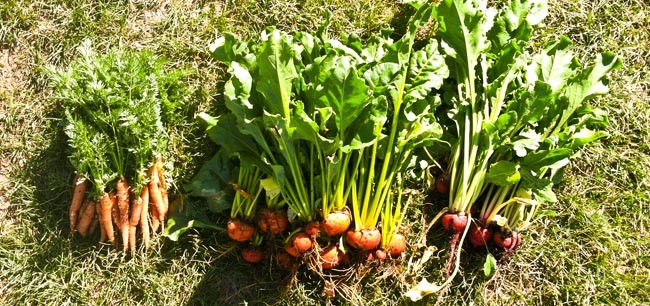 We wanted to give you an update on the progress of our 4UR garden!
Each day on my walk to the lodge, I walk past the garden and am amazed at the noticeable progression of the plants and herbs growing along the south side of the old bathhouse. Every morning, evening and many times throughout the day, I witness chef Wray Warner riding his bike from the lodge to the garden to make sure the temperature is right, soil is moist, plants are happy. (Yes, he has admitted that he talks to his tomatoes, and I can tell you, the encouragement has produced many little red gems!) This has truly become a project of love for our chef, and the fruit of the labor is incredibly tasty!
Chef Wray is very pleased with the success of the garden, as he explained that this summer was an experiment – one can only read and research what will grow in a place with short summers and high altitude, then there's the doing. Now that he has better knowledge of what grows exceedingly well and what has too slow of a growth rate for our season, he already has next spring's garden planted in his mind. In other words, this is just the beginning of bringing our guests incredible dishes that are locally grown – so local it is just a few feet from their cabins!
Much of the produce is added to meals throughout the week, but the real treat comes mid-week. On Wednesday evenings, our kid's counselors take the children off on an evening adventure and cook out, leaving the adult guests to enjoy a special tasting menu featuring dishes directly from our garden, as well as local sources of game, beef, poultry, and wine. The menu gives our guests a smattering of what southern Colorado has to offer!
The 4UR Ranch has always been sensitive to our guest's dietary needs, offering gluten free and vegetarian choices on our menus throughout the week. Growing our own produce is just another step in our care for your well being, inside and out, while you are here.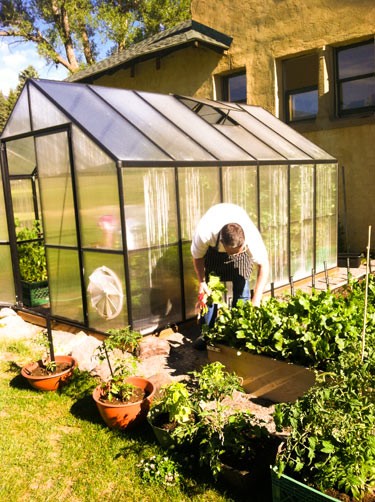 Chef Wray Warner shares a recipe below – a favorite of the 4UR, and easy to make in your own kitchen!
Golden Beet Soup with Crème Fraiche, Pickled Cabbage & Dill
• 1 1/2lbs raw golden beets
• 2 carrots
• 2 stalks celery
• 1 large onion
• 1T butter
• 3c chicken stock
• lemon juice
• salt
Peel and dice beets, carrot, onion & celery and sweat in a pan with butter. Add chicken stock and simmer until all vegetables are tender. Puree and season with salt and lemon juice to taste. Garnish with finely shredded pickled cabbage, crème fraiche and fresh dill.
Pickled Cabbage
• 1 head cabbage finely shredded
• 1c rice wine vinegar
• 1c sugar
• 2 slices fresh ginger
• 1 red chile
Dissolve sugar in the vinegar with ginger and chile over medium low heat. Allow to cool and pour over shredded cabbage. Allow to sit for at least 24 hours.
• 2c heavy cream
• 3T buttermilk
Combine cream and buttermilk in a glass jar. Cover tightly with cheesecloth (or any breathable material) and let sit at room temperature (70 to 75 degrees F (21 to 24 degrees C)) for 24 hours. Stir, screw on lid, and refrigerate for 24 hours before using.