The summertime buzz around the 4UR Ranch has been the incredible hatch of various flies we are experiencing along Goose Creek and the Rio Grande River. To give you just a glimpse of the incredible fishing we have had due to these little guys, we'll introduce you to a few that have been out in full force in late June/early July:
Salmon Fly
It started in mid-June with the hatch of stonefly known as the Salmonfly. Western anglers love salmonflies because of their larger size – every fish in the river will go for this big source of protein. It is the biggest hatch, as far as the size of the bug, you will see all summer. Adults arrive at the onset of summer, when fishing is most pleasant. The Salmon nymphs hatch from the Rio Grande River and then fly up river to lay eggs. This year, many have found their way up Goose Creek, and have been seen as far as station ten.
Green Drake
A type of mayfly, the Green Drake (Ephemera guttulata) is currently a bountiful hatch along Goose Creek. This hatch has the ability to lure huge piscivorous brown trout to eat insects at the water's surface. It is said that the Green Drake hatch "is as irresistible and habit-forming as black jack, whiskey, or easy women." – Caucci and Nastasi from their book, Hatches II.

Golden Mayfly
This summer, we have also seen a prolific hatch of the Golden Mayfly (Ephemera Hexagenia) According to one fly fishing website, Mayflies may be the most important insects for trout anglers to understand. They are an ancient order of insects, famous outside the fly-fishing world for their fragile beauty and short adult lifespan, often a single day to mate and die. The mayfly's poignant drama attracts poets and fishermen alike, but fishermen make the most of it!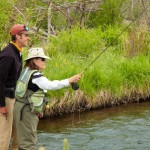 Many people have expressed concern over last summer's fire, and the affects it has had on the stream. After talking with two of our fishing guides, Alex and Zach, they reported that the fire has not affected the fishing for this summer, as the trout are healthy and a good size. The Salmonfly are on a three year cycle, meaning that this year's hatch were eggs laid in 2012. So, we'll see in 2016 how the 2013 fire may have affected the younger eggs. The good news is, the nymphs survived through the black sooty water from last year, and we have seen many flies out in full force!
This was also confirmed in a water quality report that was done earlier this summer for RWEACT (Rio Grande Watershed Emergency Action Coordination Team), a community group that was formed to address general concerns regarding public safety and environmental health concerns after the West Fork and Papoose Fires. Ashley from Hogue Hydrology Group reports:
"Six water quality monitoring sondes were installed in RWEACT designated sites in April. The probes on the sondes have been working well since mid-May, as it took some time to work out problems from installation.
The water quality of the Rio Grande from the Box Canyon site through Del Norte looks completely normal. There have been no parameters that exceed state standards due to fire at this point. Current monitoring data is being compared to a control site at Thirty Mile, above the burn, and to pre-fire data.  .  . so far the Rio is healthy and the insect and fish life are thriving and show no signs of stress from the fire. Monitoring of water quality, streambed habitat, and aquatic life will continue through October."
Just this past week, our guests have caught over forty to fifty fish in a day. Jeff Gay, a long – time guest speaks about his week in the video below:
Our July guests can expect to be fishing with smaller stoneflies, as well as the green drake and other mayflies, and caddisflies.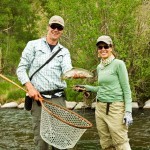 Alex reports the stream has been great, and the water is still cold.  Goose Creek is dropping about 5 CFS per day, nice and slow. We are at a prime flow!
All guides caution guests to bring insect repellant – with a great stream habitat, mosquitoes and black flies are plentiful too!