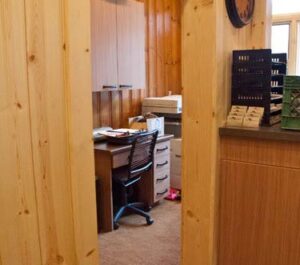 The 4UR Ranch has spent this past winter/early spring remodeling the offices and reception area in our Main Lodge. This week, Kathy, Robin and Aaron are finally moving in. There are boxes with miscellaneous computer cords and office supplies occupying counter tops and filing cabinets in the entrance, but our Managers have a smile on their faces as they move into the new space.
A Breath of Fresh Air
New cabinetry, new windows, and a reception counter with an art wall are just a few of the improvements.
Kathy is looking forward to having an area that is more conducive to the daily dealings of managing the behind the scenes operations, as well as still having accessibility with the guests. Before, Kathy's office was a long rectangle with an oversized, bulky desk. Now her square shaped, streamlined office makes it easy to access what she needs at an arm's length in any direction!
When walking into Aaron and Robin's office, there are two words that come to their mind, warm and cozy.  Aaron says his favorite thing about the new space is the lighting, and for Robin, storage. There is so much more space with the new cabinetry, which helps both of these General Managers to feel more organized.
All Your Needs in One Location
The reception area will feel more organized to our guests, as it will serve for checking in and out, but also become the hub for our fishermen.
The fly rods and fly selection will be prominently displayed, and licensing will take place there as well. With the new countertop, lighting, and art wall, it is visually stunning.
When talking with the Architect who oversaw the remodel, Avery Auger (Creede America) said his main goals were function and the needs of the people who use the space.  He explained that this area, the reception and offices, are the "nerve center" of the Ranch. There was a lot to improve upon and add to, but with the constraints of the same four walls to work in. Avery collaborated with the managers and owners to keep esthetics clean, modern, and still to tie in with the rest of the lodge.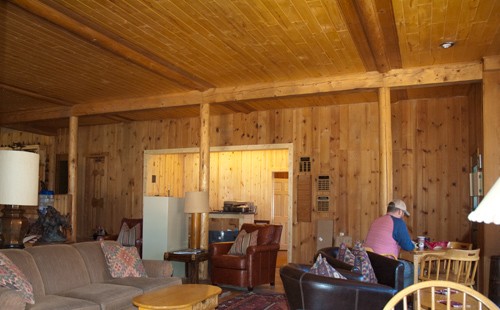 We look forward to greeting you as you walk up to the new reception area, and to continue taking care of you during your stay, although now with more function, efficiency, and comfort!