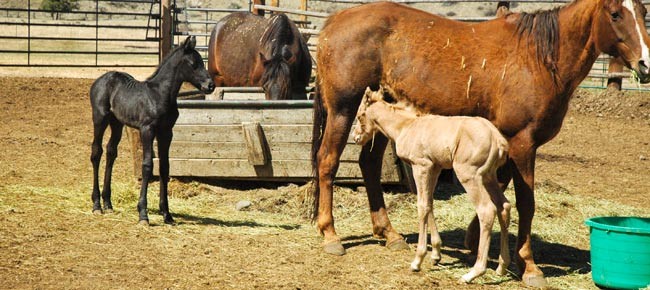 We have some very exciting news! Two of our mares have delivered healthy, sweet, and oh-so-cute babies. We would like to introduce you to our two new 4UR baby horses, both born this April!
Welcome Baby Ashlee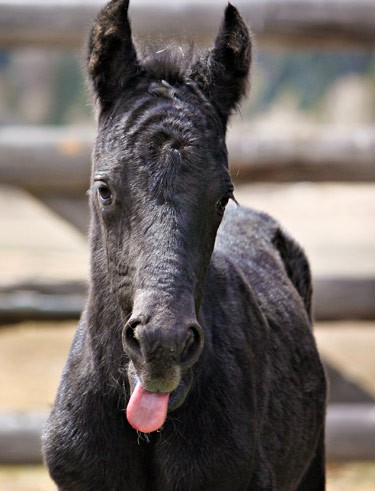 Born: Friday, April 11th at 1:15am
Color: Black, but we spotted some brown hairs on her coat, so we think she will be a dark bay like her mommy. Belle's eyes are a very dark brown.
Name Origin: Well, between 1:15am and 3:00am, Kate made a few phone calls to our friend and former wrangler, Ashlee Parsons. Ashlee has expert experience with breeding horses, and was on hand for all birthing and nursing questions. Also, since the filly was born the color of ash, it made the name even more fitting.
Proud Mother: Belle
Belle is our Surrey horse, but will be taking maternity leave this summer to care for baby Ashlee.
Welcome Baby Barley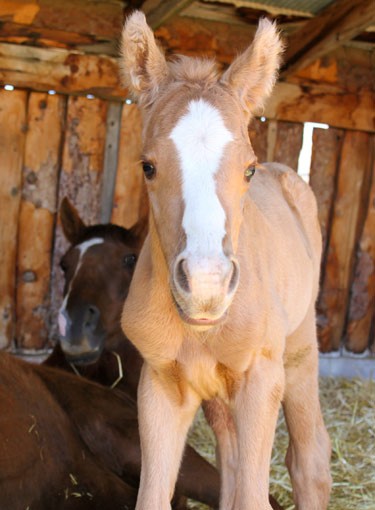 Born: April 17th at 4:00am–ish (I was putting Adelaide and Nemonie in the car at 8:00am when I heard Kate yell to Tobe from the shed behind the corrals. Tobe went running and Damon followed. I took the girls out of the car and we went to see what the hubbub was about! Kate had walked up to the shed to check on her expectant horse, Jade. Lo and behold, Jade was already nursing her own little foal! Tobe and Kate figured from the signs they saw, the little colt was close to four hours old. We captured Jade and Barley sharing a nuzzle before we had to leave. Damon, Kate and Tobe took care of the rest of the herd, and let mother and baby continue to bond. Needless to say, Adelaide and Nemonie were excited to get to the Creede Early Learning Center to tell their friends and teachers how their day started!)
Color: Palomino with a white blaze, and one white sock on his back leg. Barley has beautiful amber eyes.
Name Origin: Kate picked the name because he is the color of barley wheat
Proud Mother: Jade
Jade is Kate and Tobe's horse that they bought and bred when they lived in Oakdale, California. Jade has adjusted well to the changes in altitude and climate. You will see her and Barley alongside Belle and Ashley this summer.
Each day the wranglers (and Tobe) go out for a little "imprinting" with the foals. Imprinting is basically petting and playing with the foal, and getting it used to humans. We want these babies to be well adjusted to having many people around, and to be manageable and easy to train later on.
For more pictures of these cuties and of the 4UR horse family, take a look at Kate's photography.
Horse Terms:
A general term for a baby horse is a Foal. A baby boy is a Colt, and a baby girl is a Filly. When a male horse grows, he is a Stallion. Most male horses are "cut" (similar to your male puppy being neutered) and then are referred to as Geldings. A grown female horse is a Mare.
Your family will have great opportunities this summer to interact with the new members of our family. See you soon!