There is something about the outside of a horse that is good for the inside of a man.  ~Winston Churchill
This month, the 4UR added four new horses to our herd! We watched our Head Wrangler, Damon Gibbons work each horse in the arena, and asked him to tell us a little about each horse. We would like to introduce you to the new members of our equine family:
Angus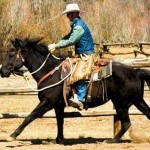 Age: 9 yrs.
Height: 15 hands
Color: Black  (as in black Angus)
Breed: Quarter Horse
Damon's notes: Angus rides beautifully, very smooth and willing to please. He has more of an English background than Western, but has been picked for his neck reining ability.
Baylee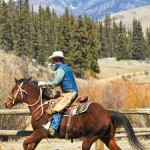 Age: 6 yrs.
Height: 15 hands
Color: Bay (hence the name BAYlee)
Breed: Quarter Horse
Damon's notes: Baylee has a lot of energy, and it is beautiful to watch him run free. He is very athletic, and will be an easy keeper.
George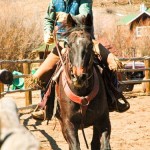 Age: 17 yrs.
Height: 16.5 hands
Color: Brown
Breed: Thoroughbred & Quarter Horse
Damon's notes: Great neck rein ability that comes from years as a ranching rope horse. He has an incredibly smooth trot and gallop.  He's a Cadillac.
Roman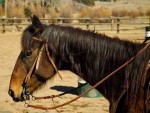 Age: 9 yrs.
Height: 15.75 hands
Color: Dark Bay
Breed: Thoroughbred & Quarter Horse
Damon's notes: Named for the shape of his nose, Roman naturally picks up the proper leads – making him fun in the arena.
Many people have sighed for the 'good old days' and regretted the 'passing of the horse,' but today, when only those who like horses own them, it is a far better time for horses.  ~C.W. Anderson
So, what do we look for when buying a horse? Of course, as we ride our mounts, we look for good, solid horses that our guests will feel safe riding. We need strong, young horses for our adult riders, to carry them great distances on our trails. When an adult horse has proven themselves trustworthy for many years, and gained some wisdom with maturity, they graduate to our Children's program. This gives our more mature horses a lighter load to carry and less distance to cover. This preserves them in their golden years, ensuring they have a long, healthy, and purposeful life.
Our goal is to be the best in our business in introducing people to the horse experience. Many people who come here want to get a horse of their own. They often ask us for tips. Here's a couple:
• We ran across a great article in Western Horseman called "Look him in the Eye". The article is an interview with accomplished horseman, Lester Buckley. He explains how a buyer can accurately read a horse's disposition through its eyes.
• The American Quarter Horse Association gives great tips on their website to help the buyer when selecting horses.
We look forward to introducing you to Angus, Baylee, George and Roman this summer!
No hour of life is wasted that is spent in the saddle.  ~Winston Churchill