Over the Valentine's / President's Day weekend, Creede resurrected an old festival with a new twist: Cabin Fever Daze. (Event Page)
A Valentine's Dance at the Elk's lodge started off the weekend, with music by the Rifters  (with special guest, Tish Hinojosa), and ended with local band, MoJones, playing at the Tommyknocker Tavern.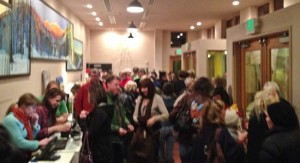 The Creede Community Fund (CCF) teamed with the Creede Chamber of Commerce to put on the event. The idea was to draw in the crowds during a time of year that is usually slow for our little town. Creede businesses are still slowly recovering from the hit they took during the wildfires that burned last summer (West Fork & Papoose). Even though Creede was not evacuated like the 4UR Ranch was, Highway 149, the only road into town, was closed. Because there was no evacuation, there was also no federal or insurance relief for local businesses. Cabin Fever Daze is one of many future events the Chamber and the CCF intend to put on in order to help Creede come back and flourish.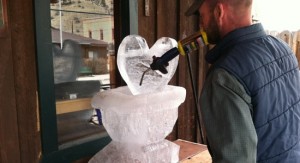 The weekend was very successful. A few hundred people came to town, most families from the San Luis Valley. There was much to do through the whole weekend: Crafters had booths set up in the Creede Community Center, a Full Moon ski/snowshoe on Friday night, a snowmobile poker run, the First Annual Curling Tournament took place on the lower Creede pond, and free ice skate "rentals" were available for families to skate on the upper pond.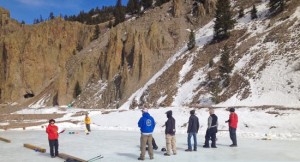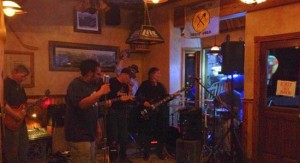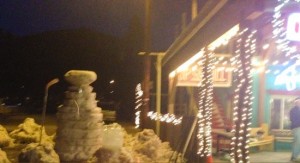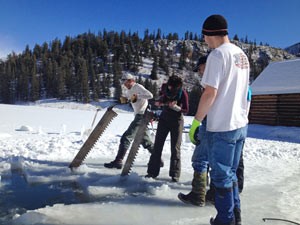 The town businesses participated in a Hot Toddy contest. The general public bought tickets and tasted samples as they walked through historic downtown Creede, voting for their favorite drink.  Local artists (including Damon Gibbons from the 4UR) carved blocks of ice set up around town. Damon came in 3rd place for his sculpture, a 4UR "trophy" cauldron, which he set on fire for his finale on Sunday. At night, burning barrels illuminated street corners. The Creede Repertory Theatre opened on Saturday night for a packed performance of their improv show, Boomtown. Artist Stephen Quiller, who will be teaching two workshops at the 4UR this summer, opened his show "Beauty in the Burn." The paintings are breathtaking, and his studio definitely worth a visit when stopping in Creede. Jennifer Inge  displayed her "CreedeHeart " necklace for the weekend; and a preview of her upcoming jewelry line, "Out from the Ashes." There were fireworks set off by Jenna Ford, a silent auction to raise money for the Creede Community Fund, and an all-church service set in the canyon uptown, surrounded by the beautiful cliffs of Creede.
4UR was present throughout, from ice sculpture, to a silent auction donation, and a general sponsor of the whole weekend's event. We can truly say that we are "Creedehearts", and feel very blessed to be near this wonderful, vibrant, and thriving community. If you have been curious to visit Creede in the winter, may we suggest coming to Cabin Fever Daze. You will be enchanted!