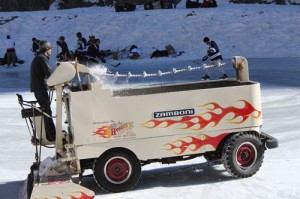 This January marked the 7th Annual Creede "Golden Pick" Tommyknocker Pond Hockey Tournament. From the very birth of this event, the 4UR has been present. Damon Gibbons remembers the winter of 2007, braving Wolf Creek Pass in the 4UR Duramax, to claim a vintage Zamboni that was donated to Creede by Durango's Chapman Hill – a small in-town ski and skate facility . The Zamboni is one of the first made (Frank Zamboni & Sons serial #114). Chapman Hill had two newer Zamboni's for their ice, and was using this one for local parades, hence the reason for the fire bolt painted down the sides. Still running strong, it is now used every winter to perfect the ice on the tournament ponds, located in the canyon north of Creede, across from the Community Center. In 2008, Local business owners Brian Brittain and Kip Nagy used their non-profit "Tommyknocker Tavern and Kip's Grill for Creede Athletics" to host the first annual tournament, feeding the town's ever-growing excitement for the sport.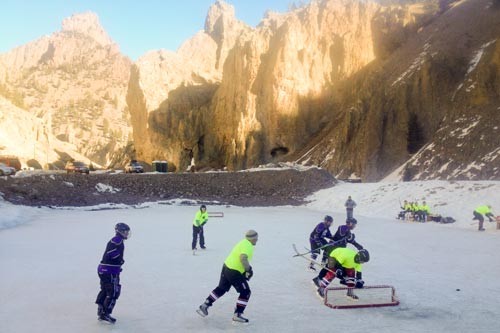 Local artist Jeff Henderson carved the "Creede Cup" (a wooden version of the Stanley Cup). Each year, the winning team's name is engraved on a plaque attached to the Cup, which is displayed prominently in the Tommyknocker Tavern. Damon has played both Creede A and B leagues. Kiera Gibbons and Kate Brofft played together on the first all women's team, the Hotel Hotties in 2009. It's no wonder that during a friendly game of hockey behind the Gibbons' house on Christmas day, Jay Smith and Damon decided to form (insert over excited announcer voice and Survivor's "Eye of the Tiger") The First-Ever 4UR Pond Hockey Team! The weekend of the tournament arrived. Jay came down from Denver with two of his hockey buddies, Greg and Brad. They joined Damon, Kate and Tobe Brofft, along with last year's summer staffers Shae Couch (wrangler) & Taryn Doud (waitstaff), to skate in the B league.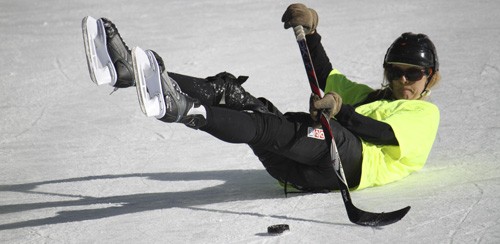 Sadly, they did not win the Creede Cup, but made great memories. Jay, who is a pond hockey veteran, said this is the most fun he has had on any team. You have not seen or heard the last of What the Puck. Look for us next year in the 2015 8th Annual "Golden Pick" Tommyknocker Pond Hockey Tournament!