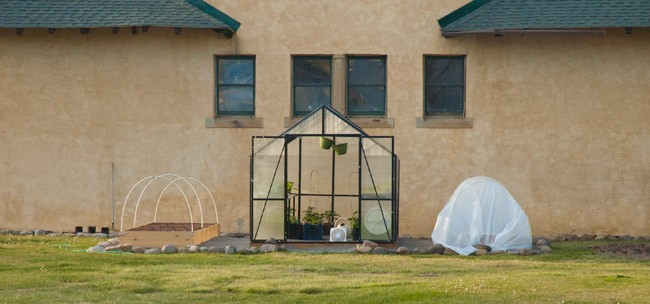 Having a Greenhouse and garden is a much-loved pastime for many people. It is not just the bounty of the harvest that is pleasing, but the contact with the soil, the fresh air, and decompressing as you methodically pull weeds.
When you arrive at the 4UR Ranch this summer, you will see much activity around the south side of the old historic bathhouse. Last month, we built a greenhouse and raised beds to produce our own fruit, vegetables and herbs to be used in dishes prepared by our Executive Chef, Wray Warner.
Since Wray, his wife Sarah, and son Graham arrived last week, the flurry around the greenhouse has greatly increased. Wray has been busy tilling, planting, watering, covering and uncovering the fragile little plants that are starting to sprout. A lot of tender loving care is going into this garden. Part of the constant maintenance is due to the elevation of the Ranch, close to 8800 feet. Our growing season is short because of the late departure and early arrival of frost, and evening temperatures that can drop below 20 degrees Fahrenheit in late spring and late summer. The sun and wind is very intense at this altitude, so the temperature in the greenhouse must be regulated several times throughout the day, to make sure it is not too hot, and the plants don't become scorched and crispy! Despite the learning curve we face this year, expect a delicious, tasty, homegrown experience this summer!
I asked Chef Wray to share his thoughts on the garden, and what excites him most about this new "growth" for the 4UR:
"For me, food evokes memories. One of my first food memories is picking peaches, cherries and apples in my grandfather's orchards. Those of you that have had a tree ripe peach warmed by the sun know that it is a revelation . . . juicy, sweet and fragrant. Life changing? Maybe. Memorable? Absolutely. The same can be true for a tomato or a carrot or even a beet. When we focus on seasonality and harvesting at the peak of ripeness, we highlight the produce, elevate it and make it memorable.
"The garden is a canvas for creativity. It allows us to experiment with different vegetables and herbs. It makes us think of creative ways to use every part of the product and gives us a renewed respect for the effort and love that goes into the soil.
"Growing our own vegetables helps us to start to become more sustainable. By saving seeds, we ensure future crops. By composting vegetable trimmings, eggshells and coffee grinds, we enrich the soil and in turn make future crops more nutritious. And, by producing our own food we sustain ourselves.
"The greenhouse and kitchen garden is about sustainability, seasonality and respect for the product and the process. I am looking forward to growing vegetables, creating new dishes with what we grow and composting the trimmings to start the cycle again."
Wray shares one of his favorite fresh-from-the-garden recipes:
Summer Garden Gazpacho with Tomato Toast and Manchego
Ingredients:
2 pounds ripe tomatoes
1 clove garlic
8 ounces cucumber
1 poblano pepper
2 Tbs sherry vinegar
6 ounces extra virgin olive oil
Seed cucumber and pepper and roughly chop.  Halve tomatoes and place in a blender.  Place garlic, cucumber, pepper and sherry vinegar in to the blender and pulse until well combined.  With the blender running, slowly add olive oil in a steady stream to emulsify.  Season with salt and pepper.
Tomato Bread
4 slices of a crusty bread
1 clove garlic
1 very ripe tomato
flaky sea salt
Drizzle bread with olive oil and toast.  Rub toast with garlic.  Cut tomato in half and rub toast with the tomato allowing the juice to soak in.  Sprinkle with sea salt.
To plate, place gazpacho in to a bowl and garnish with whatever fresh vegetables are available.  Drizzle olive oil around and place tomato toast on the side of the bowl.  Shave manchego cheese over the top.