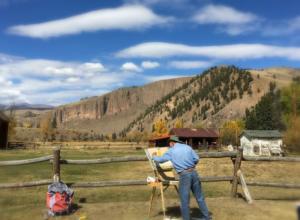 We are very fortunate to have Stephen Quiller painting at the 4UR Ranch during two workshops this season!
Because . . .
Stephen Quiller is an award – winning, internationally recognized Master Watercolorist with an incredible gift for teaching.
And . . .
The 4UR Ranch is a living work of art, inviting the artist to capture its beauty with every turn of the head.
We think . . .
Together they are a perfect combination for a week – long Artist's Workshop alongside Goose Creek under the Cottonwoods.
Every spring since 2012, we've been fortunate to host Stephen's painting workshops at the 4UR. They have opened our season, just as the Aspens began to leaf out and the wildflowers began to bloom.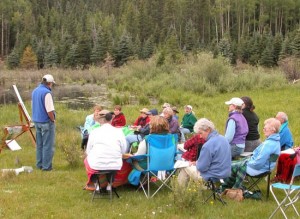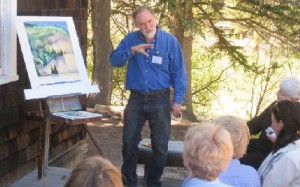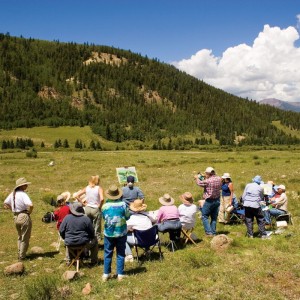 This year we will not only host his Spring Workshop: "Working Sketches and Color Foundation" (May 31 – June 6), but also our FIRST Fall Workshop: "Plein Air in the Autumn High Country" (September 21 – 27)! Mr. Quiller is excited for this opportunity to paint the fall season at the 4UR Ranch which has "unlimited subject matter".
So, Who is Stephen Quiller?
Stephen Quiller has painted and lived in Southern Colorado for over thirty years. Known for his bold, vibrant use of color, color theory and his unique approach to water media painting; he has written many books, produced several DVDs and endorses numerous top-quality materials which bear his name. His work and materials are collected internationally and can be found at the Quiller Gallery (est.1970) in Creede, CO.
Steve comments about the 4UR Workshops on his website:
"This venue is simply the best I have ever experienced. The accommodations, food and care the staff provides is incredible! This workshop combines both the outdoor and studio painting experience. We will go to beautiful mountain locations and make what I call "working sketches." These are not finished drawings but informational notes of the subject, both black and white and color studies. We will take this work back to the studio and use the studies for reference to develop finished works. In the studio, emphasis will be given to color foundation. We will begin with a limited palette and work with value and intensity. Throughout the week, we will build to the more complex. Marta and I will host a Friday night evening at our home and a tour of my studio."
I had a chance to talk with Mr. Quiller as he was setting up the artist's work area in Palmer house. He is very excited about this newly renovated space (more to come in our next blog!), as the lighting in Palmer house is brighter, and perfect for studio work, which is over half of the workshop.  Steve now feels the 4UR offers the "full package" – great landscape and a great studio combination!
You can inquire if any openings remain for the fall workshop, "Plein Air in the Autumn High Country" by contacting us (719-658-2202), or the Quiller Gallery (719-658-2741).
Nevertheless, whenever you come and stay this summer, it is worth a visit to the town of Creede to step inside the Quiller Gallery.
Steve's latest body of work, "Beauty in the Burn" is a beautiful array of pieces depicting the landscape around Creede after the 2013 wildfires swept through the Rio Grande National Forest and Weminuche Wilderness. Steve will continue working on this series, and we're looking forward to following his process!