4UR Horsemanship Program Increases its Herd
It is spring on the ranch, and seven new horses have been added to our summer Horsemanship Program. The whole herd has been frolicking in the occasional spring snow, shedding winter coats and getting shoes on for summer. The wranglers are brushing up on their natural horsemanship skills too, and gearing up to give our guests an experience that will help to establish a great relationship with their horse during their stay here at the 4UR Ranch, and for encounters outside the ranch.
Head Wrangler Damon Gibbons and Senior Wrangler Nick DeRienzis will be attending a Buck Brannaman horsemanship clinic in Ft. Collins, CO. this coming May 20-23.  The clinic will center around continued horsemanship with vaquero style of riding. As part of the clinic, they will audit some cattle working – focusing on tracking, sorting and cutting. While in Ft. Collins, Damon and Nick will attend an Extreme Mustang Makeover event, taking place in the same complex as their clinic.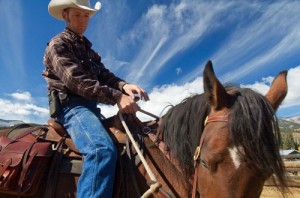 Damon gave us insight on purchasing new horses and introducing them into the herd:
"When purchasing horses for the 4UR Horsemanship Program, we have to get past the idea of "dude horses".  Our horses are very diverse.  Many are young and strong enough to run, lope, or trot with our guests day in and day out.  Another big requirement is neck reining.  4UR horses will all "move off a rein" quickly and willingly, even side-pass gracefully when our guests have learned the proper cues.  The big three requirements are youth, size and sensitivity.  4UR usually purchases these horses when they are young. For their first summer,  typically they are wrangler horses until we know they are ready to be guest horses.  After several years, the horses "graduate" into the kids program, where the rides are shorter and lighter.
"A horse must complete its three week quarantine period before it is introduced to the herd.  Slowly the horse learns the hierarchy of the herd, and bonds are made between certain horses.    Understanding, and practicing employment of the horse's "language" are key to our program. It's helpful for these new horses so that the introduction to the herd is authentic and organic. It is this language which we seek to learn and use in all of our cues to establish effective communication as riders and caregivers."
Among the new crowd are a few registered American Paint Horses, and American Quarter Horses. Here are the new faces you will meet this summer: