Winter is already melting away at the 4UR, here is a look back at a cross-country ski event, one of the many fun pastimes from early 2016!
On Sunday January 10th, The Rio Grande Headwaters Land Trust (RiGHT) partnered with the San Juan Nordic Club held a Cross-Country Ski Clinic at the 4UR. They came out the day before the clinic to groom about a 1 1&2 mile ski trail around the barn and closest pastures.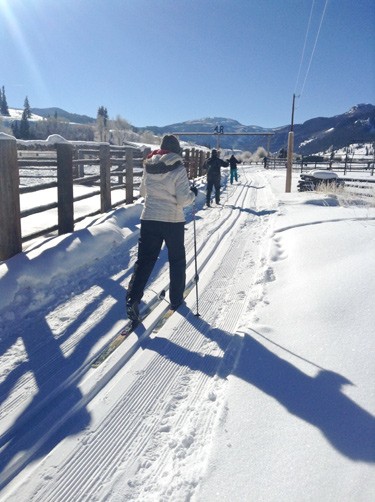 The day was sunny and cold, starting off at -20 degrees at 10 am. Over 50 people from all over the San Luis Valley attended the clinic. Ability levels ranged from novice skiers trying their hand (or shall we say 'feet') at cross-country skiing to more advanced skiers learning to skate-ski. Many of the participants had never been to the 4UR and loved the chance to ski here and take in the beauty. All of the equipment was donated for the day by 8200 Mountain Sports located in South Fork.
The clinic kicked things off in the horse barn where skiers received properly sized equipment, followed by a short introduction from San Juan Nordic Club member Adam Moore. Adam explained the different types of skis, boots, and waxing techniques. The eager participants broke into groups for lessons and hit the trail. Everyone skied until noon when a chili potluck lunch was served in the newly remodeled great room of the barn. This gave everyone a chance to visit with one another and warm up their toes!
After lunch, Allen Law, Stewardship Director at RiGHT, lead a ranch tour to discuss the recent conservation easement at the 4UR. Allen said, "By the time of the tour it had warmed up (a little) – I even took my hat and gloves off for most of the afternoon! About twenty or thirty people came on the tour, and I led the group south on the road to the old cabins. At two spots we stopped to talk about the 4UR's history, what you all do now, how conservation easements help to protect that history while still letting you manage your ranch how you want, and then about the wildlife habitat, fire, and this year's restoration project on Goose Creek. Around two o'clock most people were all skied out, but a few people wanted to keep going, so I led them a little ways further down the road where we saw six elk out in the pasture – it was a super cool surprise and reward for staying out!"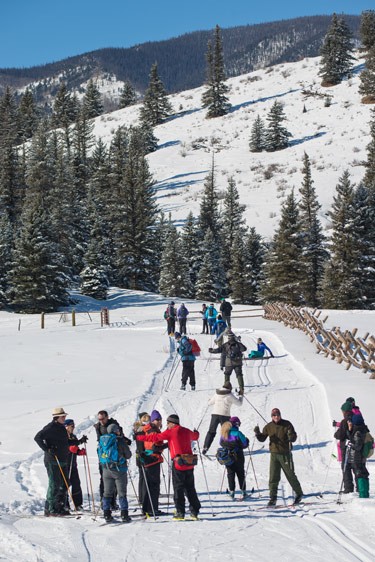 As you might already know, over 1400 acres of the ranch's land have been placed under conservation by RiGHT, who's goal of conserving 25,000 acres along the Rio Grande has now been met! We are thrilled to be a part of this worthwhile endeavor.