Over the years, the 4UR has witnessed several couples emerge from our summer staff. We know of seventeen couples who have married or are in a serious relationship, and we're sure there are more that have missed our radar. One may look for employment at the 4UR for a fun summer experience, which oftentimes leads to meeting your best friends, and sometimes your true love. While we are not suggesting we are better than a dating service, here are a few the love stories which blossomed here at the 4UR:
Kyle and Kate Michaels
Kyle and I met on the 4UR Ranch during the summer of 2004, when he signed on as a ranch hand and I as a housekeeper. We both were looking for a summer that consisted of making new friends, hiking, working hard, and enjoying all of the incredible outdoor opportunities that the ranch has to offer. Little did we know, a friendship that started during Ping-Pong games, hikes, fence-building, meals in the EDR (employee dining room), bonfires and barn dances would develop into a love that would endure for 12 years (and counting). We were married in an open park overlooking station 10 on June 4th, 2007. We now have two amazing daughters, Ruby Mae (3) and Ella Jane (1 month). We feel so blessed to have found one another (who would of thought that a PNW girl from Oregon and a country boy from West Texas could make it work?!), and to call Creede our home. I work as a RN (Creede Family Practice) and Tobacco Prevention Coordinator (Mineral Co. Public Health), and Kyle is assisting with all of the exciting renovations at La Garita Ranch, across from the 4UR.

Wray and Sarah Warner
In the summer of 2006, I headed to the 4UR Ranch anticipating a summer filled with horses, amazing adventures and fascinating new friends.  Needless to say, the ranch did not disappoint. After just a few days there, I had already met what I knew would be life long friends, rode some incredible horses, and enjoyed the beautiful scenery the 4UR had to offer.
During our staff introductions one of our "ornery" chefs, caught my eye.  Having worked in a kitchen since I was a teenager, I knew the type (or so I thought).  He was handsome and definitely mysterious, but was not what I'd call talkative; unlike me, who had never met a stranger.  After a few nights bumping into each other on the ranch and at the local bar, Wray and I started to realize we had a lot in common (We grew up in upstate New York and had a love for the outdoors). I was instantly attracted.  One night after a fun barn party and a late night viewing of the stars and constellations, it was hook, line and sinker for both of us.  Later that week, he had put a detailed map of the constellations in my mailbox that highlighted all the stars we had viewed!
Later that winter, he came to North Carolina to meet my family and I made the trek to New York to visit his.  Our families just clicked, seeing they're both a little atypical.  We had a whirlwind of a courtship, getting engaged the following March, while in New York visiting my grandmother's farm.  We were married the following November 11, 2007, a date which was very important to us, as both our grandparents were married on November 11th.  The wedding took place in the botanical garden at the VanLandingham Estate in Charlotte, North Carolina on a beautiful fall day.
After 8 years, two amazing children – Graham (3) & Lilah (1), a pile of animals and a boatload of memories, we're still at the 4UR, still living our dream. This will be my 11th season at the ranch and Wray's 12th. When I count my blessings, I count the 4UR twice.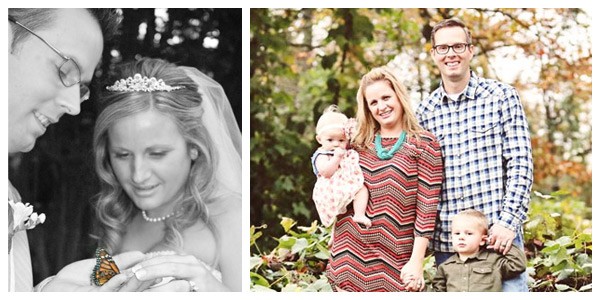 Brady and Amanda Gibbons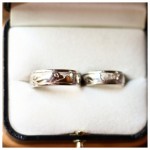 The summer of 2005 brought us together while Brady was working as a wrangler and I was a kids' counselor. We first met while talking across the bonfire pit and made plans to go hiking the next day. Our friendship and love developed over that summer and the next, and we were married on August 15, 2008.  We got to honeymoon at the ranch~ it was delightful to wear the fluffy robes and drink coffee on the porch of Amethyst. We now have two children Logan (6) and Sage (4) and live in Creede. Brady is the Property Manager at the 4UR and I am a hiking guide. We are so happy to live and work where we first met. The Ranch is our favorite place on earth, we even have the mountains surrounding the 4UR engraved into our wedding rings!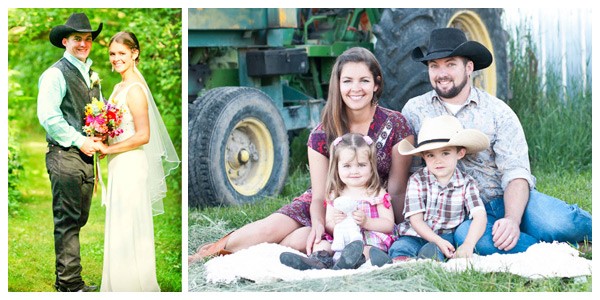 Tobe and Kate Brofft
It all began in the summer of 2010. Kate was wrangling for her third summer, while Tobe was working his first summer as a Ranch Hand. It was only a couple of weeks after staff orientation that the two seemed to be working together on a lot of ranch projects. After a long afternoon of rounding up cows for a local cattle rancher, the two were set on a mission together to round up a lost calf that had run away from the herd. Kate knew she was going to become good friends with Tobe when he ended up tripping over a piece of electrical hot wire, falling into the mud, and then got up like nothing happened and kept chasing after the wild calf. Believe it or not, that's the moment she began to fall in love with his great sense of humor and hard work ethic. From that moment on, the two spent a lot of their free time together among other staff. Tobe finally asked Kate out, and their first date was at the Antlers Restaurant in Creede. The summer flew by with the two enjoying each other's company while horseback riding, 4-wheeling, shooting clay pigeons, dining out, and of course, dancing to live music at the local Tommyknocker Tavern.
Tobe and Kate were married at the 4UR Ranch (Station 10 – same spot as Kate & Kyle!) on August 11, 2012. They now reside in Oakdale, California where they live and work on their family's ranch, raising beef cows and almonds. They also have a small Quarter Horse operation raising and training barrel horses and rope horses.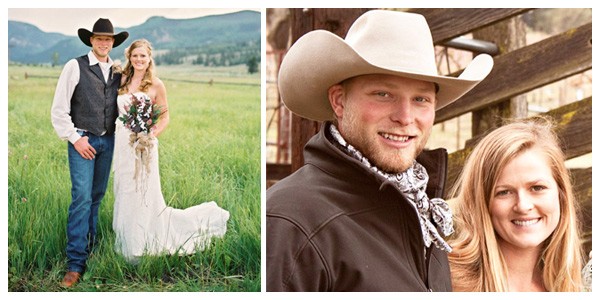 Blake and Sara Bond
Blake and I met in the winter of 2010 in Vail, CO. I had moved there to complete my externship for culinary school and he had just moved from Houston to work on the line in the same kitchen at Game Creek Club. We were attracted to each other instantly, but I still had other commitments in Texas to tend. We started off as really good friends., going out together every night with the crew after work to have drinks. Most of these nights you could find the two of us cozied up, chatting at the bar. Our first kiss was on New Year's Eve, under the clear black starry sky of Vail.
After our first winter together, we decided to continue our relationship, and Blake had already committed to his second summer at the 4UR. So, I searched for jobs from Creede to Denver with absolutely no luck until I got a call from the Rio Grande Club to be their Sous Chef. Luckily, the stars aligned perfectly in our favor and we've never been apart since! We were married at the 4UR on September 28, 2014.  Blake will be will back at the ranch for his sixth year, and I for my third exciting summer!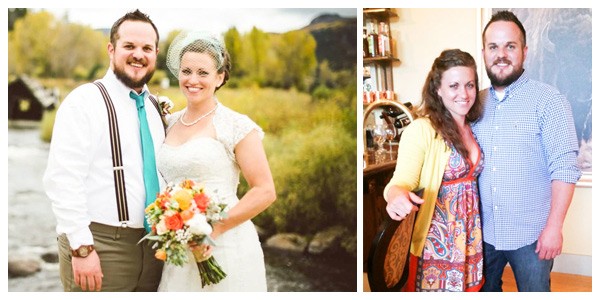 Happy Valentine's Day from the 4UR Ranch!