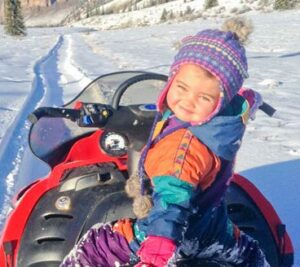 Thanksgiving brought us about 10 inches of fresh powder, and it just keeps coming! It has been a gorgeous holiday season and we've taken full advantage of it. Brady and Damon rigged up the snowmobile with 3 sledding tubes and pulled the 4 Gibbons' kids around the hills, much to their delight. (The children enjoyed it too!)
The cross-country skiing has been sensational. Wildflower Mesa and Breakfast Ride have about 2 feet of snow along the trees and a gorgeous view out to Ute Peak. The trails we usually use for horseback riding and hiking are covered in a sparkling white blanket of snow. What a blast it is to cruise through the trees on a pair of skis.
Plenty of elk have been spotted grazing alongside Pierce Creek and out in the horse pastures, trying to catch a free snack of hay and alfalfa.
We've been skiing, sledding, snowmobiling, ice skating and holding hockey tournaments on the pond behind the Gibbons' house. Plenty of time has been spent relaxing in the Soda Creek hot springs. Soaking outside in the natural springs is a bit of a different experience than using the springs in the spa area. Green and black algae swirl up from your feet as Goose Creek rushes by. It's delightful to be outdoors and the chill of the air on your hot pink skin is lovely, though a little extreme this week. The weather has been sunny and cold, with temperatures diving down to -12 in the mornings.
The most exciting news of the weekend was the arrival of Baby Liam! Liam Joseph Gibbons was born to Kiera and Damon on Sunday night, the 29th of November. He weighed 7 lbs 6 oz and arrived at 11:46 pm. Big sisters Adelaide and Nemonie are thrilled with the new addition, as are their proud parents. Liam is just beautiful and we are so excited for the newest little cowboy on the ranch. Congratulations Damon and Kiera!