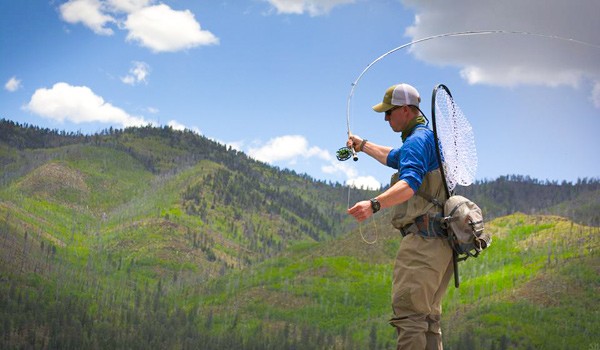 The 4UR Ranch has been delighting fly fishing families for decades with its incredible Colorado fly fishing experience. With over 6.5 miles of private tail-water on Goose Creek and 1.5 miles of the Rio Grande River, 4UR has become one of the premier fly fishing destinations in the West – attracting both novice and experienced fly fishermen. This Colorado Fly Fishing resort has evolved into a catch and release destination with full service fly fishing guide instruction.
Guided Fly Fishing Instruction at the 4UR
Our fly fishing guides come from different backgrounds with unique experiences that make them a sharp and diverse group. They all share a passion for teaching our novice anglers the art of fly fishing and a variety of techniques needed to be a successful angler. Our guides are extremely patient and love the satisfaction of getting a new guest into the sport.
Brent Hizny is returning for his 2nd season from Courtdale, PA with a degree in Biology. He has been fly fishing for 12 years. Brent's favorite aspect of Goose Creek is that it's one of very few private tail waters in the United States, giving the guests a superbly unique fishing experience. The fertility along the stream allows for an abundance of aquatic invertebrates such as Mayflies, Stoneflies, Caddisflies, Midges and Terrestrials that prolifically hatch throughout the day.
Paul Peterson is from Middleton, WI, and a a returning staff member. He has been fly fishing for 10 years and graduated with a marketing degree from University of Wisconsin. Paul enjoys sharing our private tail waters with the guests and providing a first class fly fishing experience. During the morning you'll find Paul hunched over the fly box, helping guests pick out the perfect fly for their morning on the stream.
Ben Christensen is a first year guide from Salt Lake City, UT and has been fly fishing for 15 years. He is currently enrolled in the College of Salt Lake City and enjoys helping our guests grow to their full potential as fishermen. Ben truly believes that watching people catch fish is just as enjoyable as catching them yourself.
Gavin Marquart is also a first year guide from Green Bay, Wisconsin. He formally worked at Tight Lines Fly Fishing Co. Gavin has been fishing all his life but just got hooked on fly fishing about eight years ago. He will graduate this year with a degree in Geology and Environmental Science. He enjoys the surroundings and scenery of Goose Creek and loves to give casting lessons to our novice fly fisherman so they can rise to their full potential.
'Tis the Season to Fish!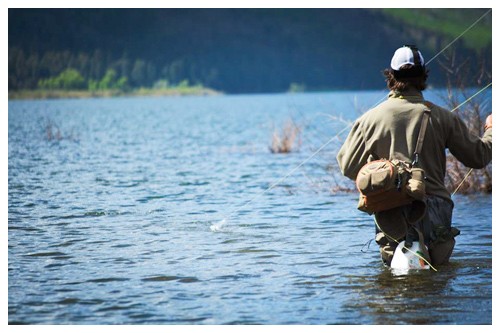 This season, the fly fishing guides have been extremely busy with instruction and guided trips. Goose Creek fishery has gone through a bit of a transformation after the fire of 2013. The bug life (biomass) has flourished with the abundance of nutrients being flushed down the stream over the last three years. The fish are bigger, stronger and more colorful than ever, making for a complete Colorado fly fishing experience.
As our fall fly fishing season approaches, the guides are looking forward to hunting the "big fish", because the water levels will be lower and the fish will be consolidated in the long runs and riffles. The fish will be feeding on small insects that will require lighter tippet. A combination that makes for catching "big fish" an accomplishment for any level of angler. The fall colors and quiet setting make 4UR Ranch an incredible location for a fall fly fishing getaway.