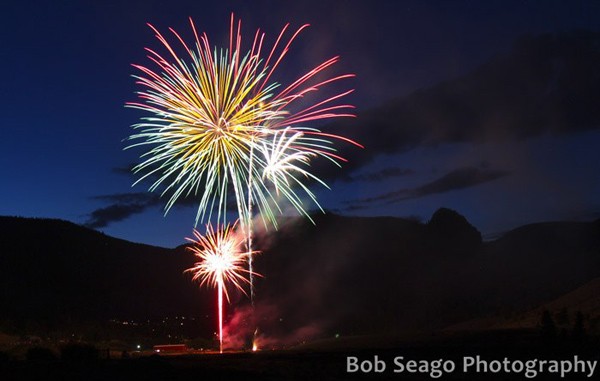 We at the 4UR feel very grateful to be situated near a small arts town rich in history and culture. Creede, Colorado is home to several art galleries, a true repertory theatre and master watercolorist, Steve Quiller.
The 4UR Ranch is surrounded by the stunning scenery of the San Juan Mountains. It is tucked in its own little valley off highway 149, which is part of the Historic and Scenic Silver Thread Byway. Along this byway, just a short eight miles from the 4UR, is the town of Creede, Colorado.
Sliver Thread Studio Tour and the 4UR Ranch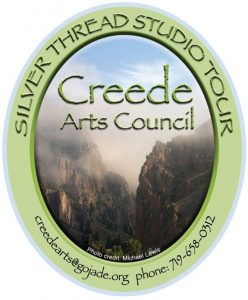 The Silver Thread Studio Tour is one of the numerous great things about the small arts town of Creede, Colorado. Presented by the Creede Arts Council, the annual tour highlights artists along the first forty miles of the Silver Thread Scenic and Historic Byway.
The Silver Thread Studio Tour is a self – guided driving tour of art galleries, studios and art demonstrations. Many mediums are viewed – painting, pastels, sculpture, jewelry, fiber, photography, woodworking, felting and quilting. This year, twenty-four artists will participate in the tour. A few of these artists are closely connected with the 4UR ranch:
Lindsey Leavell
An owner of the 4UR Ranch, Lindsey  has been a professional artist for over thirty years. Her medium is Acrylic. She studied painting at the University of Colorado Department of Fine Arts and is inspired by travels abroad and the Southwest.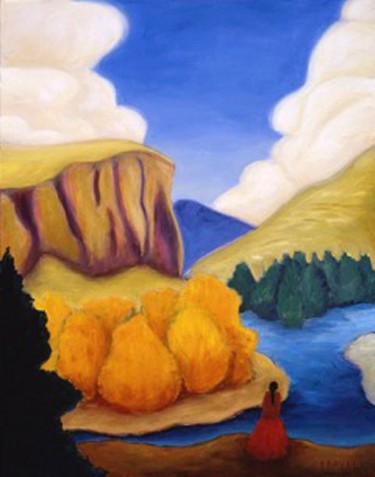 Ginni Davlin
Ginni is a fiber and textile artist. Her mediums used are silk, paper, Tyvek, and metal. She and her husband Doug, own Davlin's Wagon Wheel Gap Depot. It is this old train depot that for many years, brought guests to the 4UR Ranch via the Narrow Gauge Railroad. Ginni takes fiber art outside the box. Her works have the layered and stitched concept used in traditional art quilts, yet are not confined to all techniques.
Bob Seago
A photographer, Bob  has taken several beautiful photos of Wagon Wheel Gap and of the ranch, including Walton Pond. He has been a professional photographer for over thirty years, and his primary emphasis is on landscape photography, with occasional animals included. Bob has taken guests at the 4UR on photography hikes around the Ranch.
The Tour is on Saturday, August 13th from 10am to 4pm. It is a great opportunity for guests coming to the ranch, or for those checking out from their week-long stay.
Creede Repertory Theatre
The theatre's repertory season  is in full swing. It is one of only a handful of theaters in the US that does "true" repertory. Performances start in the beginning of June, and run through mid-September. A couple came to Creede to see 4 plays in three days, all with the same actors performing the different parts. A truly amazing and talented group of people, the theatre made waves just in 2015; winning the Colorado Theatre Guild Henry Award for Outstanding Regional Theatre, a True West award for their 50th season, not to mention Colorado Governor John Hickenlooper declared August 8th "Creede Repertory Theatre Day"!
The small arts town of Creede has been mentioned in two National publications, House Beautiful and Country Living. The August issue of Redbook magazine mentions Creede in an article entitled "Totally Terrific Road Trips".
So yes, we who live and work at the 4UR can puff our chests out a little more. Not only do we love to live on a Colorado Guest Ranch that has it all – natural, historic hot springs, a highly personalized horseback riding program, and miles of private tailwater and Rio Grande fly fishing. We also love to call this amazing little town of Creede "home".