Anyone who has ever had a therapeutic massage at 4UR Ranch before knows: it feels good. Really good! There's nothing like having someone soothing your body's aches and pains – especially ones you weren't even aware of until they have been massaged away.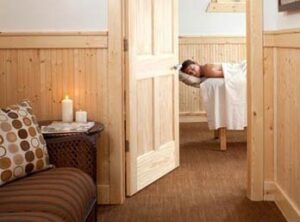 The idea of getting a massage is a little uncomfortable to some. Allowing a stranger to rub you can seem awkward but, like so many of the things we do for our health, sometimes sacrificing a little bit of emotional comfort will reward us tenfold with the resulting benefits.
And massage really does have measurable health benefits!
The physical effects are somewhat obvious. A massage can not only assuage muscle and joint pain but also decrease stiffness and increase range of motion – but did you know that a massage can relax you emotionally as well, smoothing over depression and anxiety by boosting the neurotransmitters serotonin and dopamine?
It is not uncommon to become drowsy during a massage. This is caused by the massage's effects on your brain's delta waves, brain waves connected to our ability to achieve deep sleep. While the effect may seem to end with the massage, its effects may actually last, helping to promote better sleep that evening.
Strangely, A 1996 study showed that massages can boost your alertness as well and that regular massages can decrease the severity and number of migraines sufferers were apt to have, not to mention the effect on lesser headaches.
Multiple studies have shown that massages have a small but measurable positive effect on the immune system and may even spur an increase in disease-fighting white blood cells. On top of it all, massages help us to retain youth: massages increase blood flow, which helps in a number of ways to revitalize and invigorate our visible vitality.
So don't hesitate to get a therapeutic massage at 4UR Ranch by one our talented massage therapists. Our massage appointments book up early, so we encourage you to make arrangements ahead of time. You may be doing your body more good than you realize …