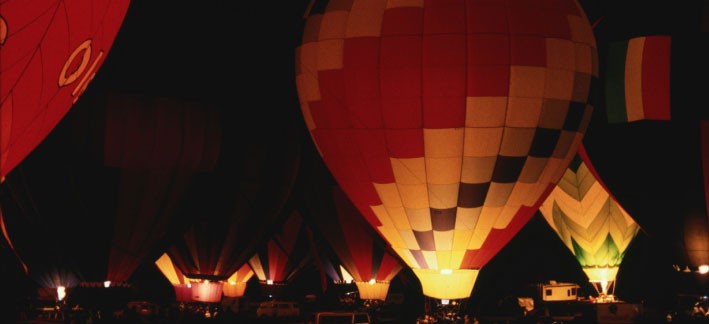 It's a morning of the second Annual Creede Balloon Festival. The air is cool, the light in the sky only now beginning to break into dawn. Around you, voices and activity take on an excited hush as giant blobs of color begin to rise up off the ground. They take shape almost as if alive; gentle, multi-hued creatures whose blasts of flame serve only to fill them with warm lift. Then they rise. First one, now another. A crowd of them, slow and majestic, growing, lifting, filling the sky with their silent ascent. Great, upside down teardrops of color, raining upwards into the heavens.
Most of us have seen hot air balloons from afar but nothing prepares you for being there as they lift off on their journey – not to mention the thrill of going along in one! Balloon festivals are a unique opportunity for photographers of all levels so don't forget to bring your camera along! The Creede Hot Air Balloon Festival is a wonderful opportunity to witness, first hand, the sport of ballooning.
A general admission party is scheduled for Friday night at the Mineral County Memorial Airport in Creede, CO. A live band will be part of the festivities along with food and drinks.
For more information, please visit: www.creede.com/events/event/645-balloon-festival-2013.html
or visit the Facebook page: www.facebook.com/pages/Creede-Colorado-Balloon-Festival/216726235053030
A limited number of tickets are available.
Call Chuck Powers for at 1-719-850-2173 or at 1-719-658-2423.
Affordable Dude Ranch Vacations
Don't forget we're offering adults a two-for-one deal between August 31- and September 7. Stay at the ranch and expand your horizons at the Second Annual Creede Balloon Festival. Use the savings and enjoy two one-of-a-kind vacation experiences with a friend!